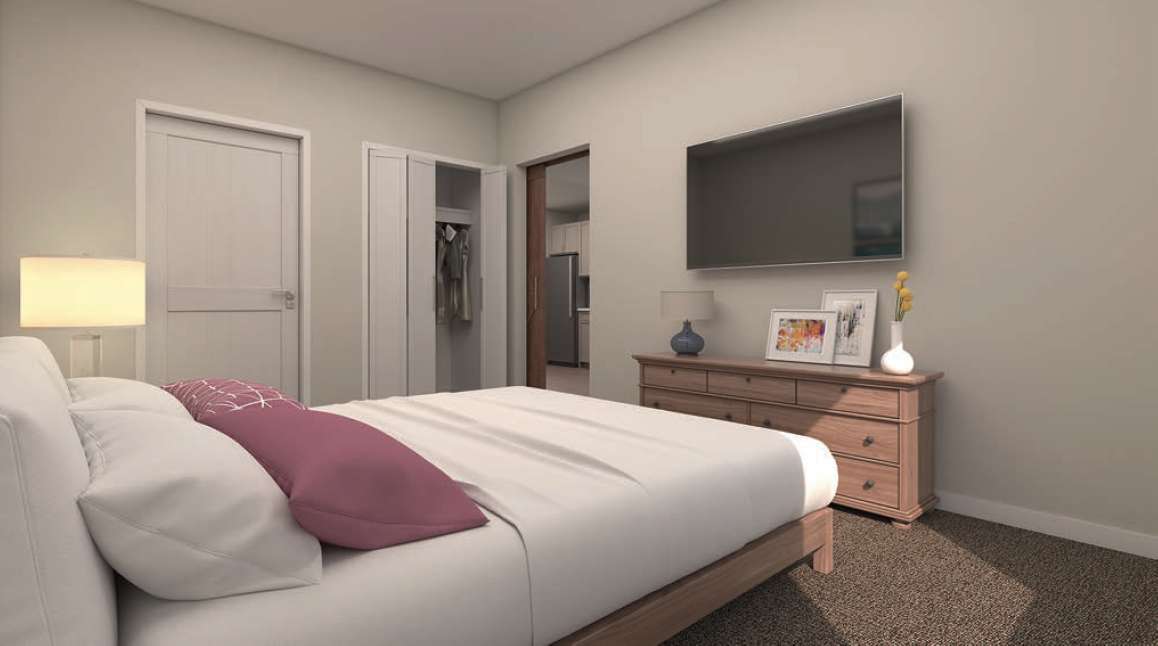 Find a Nursing Home Near You
Nursing Homes & Facilities
A nursing home is a type of senior housing that provides 24-hour nursing care services to residents. Many nursing homes offer physical therapy and rehabilitation in a therapy gym, which makes it a skilled nursing facility.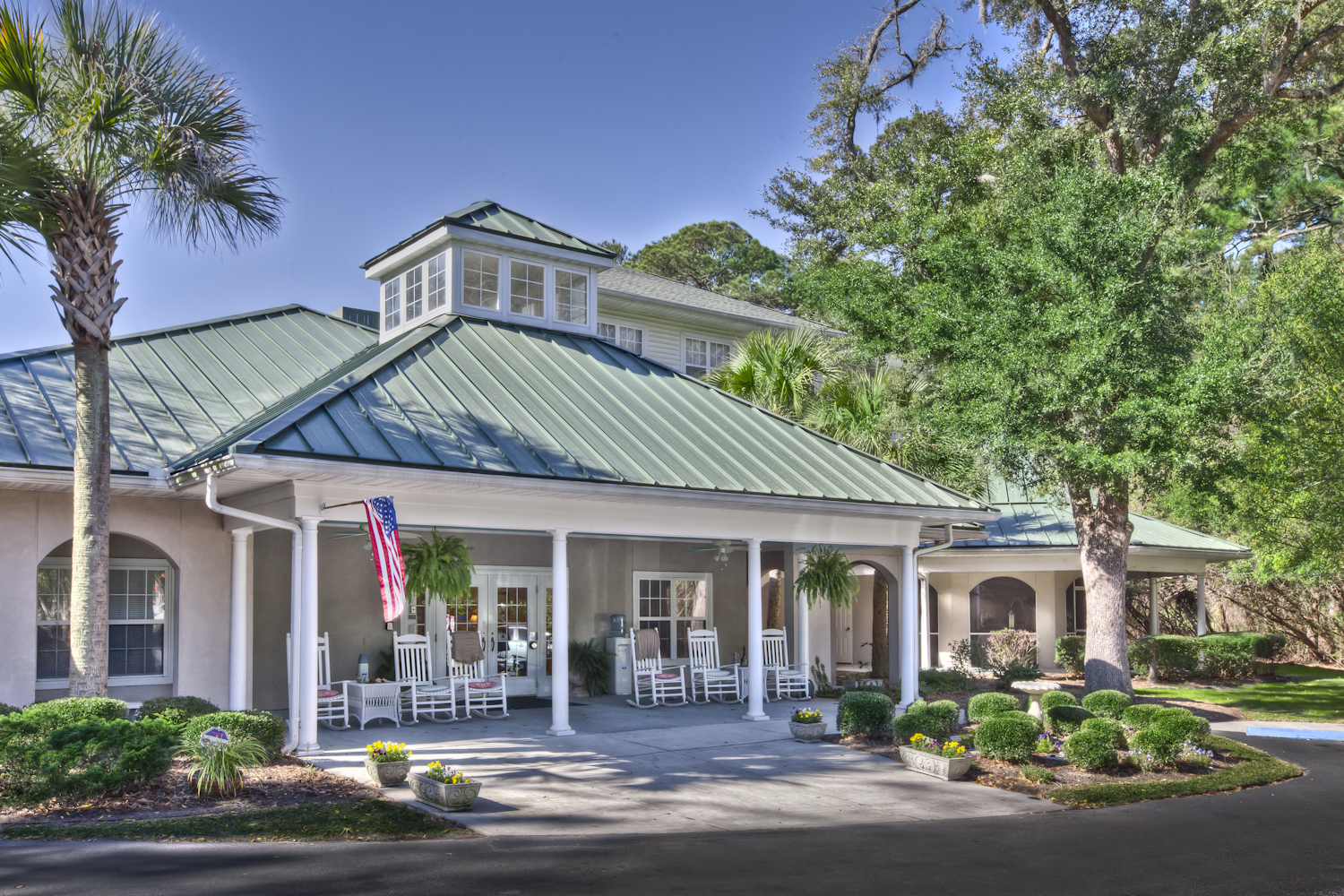 A senior living community.
Sometimes nursing homes get a bad rap...
Nursing homes may be thought of as hospital-like communities, in a decrepit building, where patients get poor care. Don't get us wrong, some nursing home buildings are very old, and the care can be off.
But that doesn't have to be the case. Many nursing homes or skilled nursing facilities are new, modern, and have competent management companies that are dedicated to the care of their residents. Or, maybe the community itself is older, but the physical therapists are skilled and can help residents recover from a hip surgery in short order. Which community that you choose really matters.
But choosing isn't easy, so we're here to help and point you in the right direction.
Nursing homes residents fall into one of two categories: rehabilitation residents and long-term care residents. These two groups have different needs, so communities need to be able to take care of one or both populations.
Rehabilitation residents, or therapy residents, are at a nursing home for a short time to recover from a surgery, hospital stay, or other acute trauma. These residents receive physical, occupational, or speech therapy from trained therapists. Typically, within the first 20-40 days, rehabilitation residents have developed enough strength or dexterity to go back home or to their senior living community.
Nursing homes that offer rehabilitation or physical therapy are called skilled nursing facilities by the senior housing industry.
Long-term care residents need 24/7 nursing care for the indefinite future that cannot be provided at home. These residents may be suffering from ailments that make it impossible for them to care for themselves. They may suffer from diabetes, heart disease, arthritis, extreme obesity, or other issues that require 24/7 nursing care.
Nursing home residents are often senior citizens, but some are younger residents that have had surgery or face severe health issues. This is different from other types of senior housing where all residents must be at least 55 or 62 years of age.
Unlike other forms of senior housing, Medicaid and Medicare often cover much of the cost of staying in a nursing home. However, if a resident's income or expenses are too high, then Medicaid will not pay for long-term care until the resident has spent down some of his or her assets.
See the cost of care section for more information on who pays for a nursing home stay.
Nursing homes offer additional support besides nursing care and rehabilitation to improve the patients' wellbeing. For instance, personal care services and medication management are included. In addition, nursing homes provide three meals each day, housekeeping, maintenance, social activities (such as card games, musical performances, and movies), and of course housing in a room or apartment.
Most apartments or rooms in nursing homes are smaller studios, companion suites, or occasionally one-bedroom apartments. These apartments usually range from 180 sf to 450 sf. The apartments in a nursing home are typically bare bones, with a hospital-like bed, tv, wardrobe or dresser, and sometimes a private bathroom. It is common for Medicaid residents to share a room, which may be called a companion suite or semi-private room.
New communities in states without certificate of need law, may offer much nicer accommodations including flat screen TVs, more private rooms, a spa, and nicer finishes in the apartments and common areas. These communities are often targeted toward rehabilitation residents and may not accept long-term care residents paying with Medicaid.
Nursing homes are largely designed around the nurses' stations, with corridors of apartments extending from the nurses' stations. This ensures that the nursing staff can easily access, watch, and care for the residents. Other amenities typically include activity spaces, a therapy gym, and exterior courtyards. Residents will often congregate in the common areas to spend time with each other, workers, volunteers, and visitors.
What is Included in Skilled Nursing?
Skilled nursing facilities usually provide 24/7 nursing care, rehabilitation and therapy services, personal care services, medication management, housing, three meals each day, housekeeping, maintenance, transportation, and some social activities.
Services Usually Included in Skilled Nursing:
24/7 nursing care
Physical, occupational, or speech therapy (not all facilities)
Housing - rooms
Dining - 3 meals each day
Housekeeping
Laundry services
Maintenance
Transportation
Social activities
24/7 Nursing Care
Nursing homes primary function is to provide 24/7 nursing care to residents. 24/7 nursing care includes medication management, assistance with activities of daily living through personal care services, and nursing care for residents with more extreme needs. Nearly all residents in nursing homes will need assistance getting bathed, dressed, and groomed. Some will need assistance with incontinence. Other residents will just need rehabilitation or therapy to get back on their feet.
Some skilled nursing facilities offer more intensive types of care, such as a vent unit for residents that need to be on a ventilator in order to live. This is common for residents that have had a tracheotomy or similar procedure. Vent units require special licensing for the skilled nursing facility, so they may not be available in all areas.
Medication Management
Medication management is a primary function of nursing care and is always included. Nurses or medication aides will manage the ordering, storing, and dispensing of medications to seniors in the proper doses and at the proper times. Residents in nursing homes that receive consistent medication compliance and general nursing care can greatly improve health compared to a senior that is struggling to comply with a medicine regimen.
Medicaid aides, licensed practical nurses, or occasionally registered nurses will walk around the nursing home community with a medication cart. They'll stop the cart at each room, prep the medications, greet the resident, and distribute the proper doses.
A resident's medications will often be stored in dose packs, which increase the accuracy and ease of administering medicines. These packets have several different medicines in the same compartment as part of a single package. So, instead of trying to acquire medications from several of the different prescription bottles and administering each individually, the medication aide can just open the one packet of pills needed at that time.
Housing
Skilled nursing rooms or apartments are typically companion suites, studios, or occasionally one-bedroom apartments. The residential rooms are part of a larger community that has common dining, activities areas, courtyards, and sometimes therapy gyms. This common format makes it convenient for residents to receive the nursing care in their rooms, while letting them dine and socialize in the other areas.
Nursing home rooms can be quite small and having two residents in a room is a common complaint. Residents that are receiving therapy paid for by Medicare often have first preference for private rooms, since Medicare typically reimburses more than Medicaid.
Dining
Dining in a nursing home is typically served in a larger common dining room. Less mobile residents may have their food brought to their rooms. The food quality in a nursing home varies from community-to-community, but is often not as high as a luxury independent living or assisted living community.
Services
Many of the services that you'd expect are included in skilled nursing. These include maintenance and housekeeping for the rooms and common areas. Laundry services are always included in nursing homes. Community workers will gather, wash, dry, fold, and put away clothing and sheets for all skilled nursing residents. In addition, transportation to doctor's appointments is provided.
Some social activities are provided as well. Certain fitness classes, movies, musical performances, and others are usually available. Many church and other groups will volunteer to hold weekly Bible studies, church services, musical performances, or other events.
What Does it Cost to Live in a Nursing Home?
Key Points:
Nursing home care is often paid for by Medicare or Medicaid
Higher income patients that need long-term care services may have to spend down their assets before Medicaid will pay
Nursing home care costs $8,517 per month on average for a private room in the United States
Cost varies greatly by types of services provided, the service provider, and the market
Range is $6,000 - $10,000+ per month
Medicare does pay for rehabilitation or therapy in a nursing home
Medicaid pays for some low-income residents in a nursing home
Average Cost of a Nursing Home Facility
The average cost of skilled nursing care is $8,517 per month for a private room according to the Genworth Cost of Care Survey.
The cost of skilled nursing care can vary greatly depending on the care reputation of the provider, staffing levels, quality of the nursing home facility, number of communities in an area, and labor costs in a market.
How Can I Pay for a Nursing Home?
Most seniors pay for a nursing home stay with Medicare (short-term rehabilitation) or Medicaid (long-term care), however, seniors that are staying in a nursing home for long-term care and have income or assets that exceed a certain threshold must pay with their own funds. This can be quite expensive.
Paying for skilled nursing care with the senior's own funds typically requires a couple of different income sources including social security; investment income; pension income; or the selling of assets such as stocks; bonds, land, or a home.
Some seniors try to protect their assets by giving them to their children before the senior needs a nursing home, then Medicaid pays for the long-term care when the senior needs it. Many states, however, have lookback laws where they will see if the senior has transferred assets over the last couple of years. Significant transfers could result in the senior not being eligible for Medicaid to pay for their nursing home stay.
There are a number of exceptions and other rules regarding what qualifies as a senior's asset or income. For instance, primary homes with equity under a certain amount (approximately $500k - $800k) are not included when the senior's assets and income are being tested. There are other rules as well.
Paying for Skilled Nursing:

Medicare (short-term rehabilitation)
Medicaid (long-term care)
Social security, pension, investment, or other income
Long-term care insurance
Veterans' benefit

Will Medicare Pay for a Nursing Home Stay?
Yes, Medicare will pay for a nursing home stay for rehabilitation or therapy with a couple of caveats. The senior must be rehabilitating or receiving therapy. This typically occurs after a hospital stay, surgery, or other acute trauma. The senior must be a US citizen, be awarded Medicare, and the stay in the nursing home cannot exceed 100 days. Most stays in a nursing home paid for by Medicare are typically much shorter, often in the 20-40 days range.
Will Medicaid Pay for a Nursing Home Stay?
Medicaid will pay for some low-income residents to stay in a nursing home depending on the requirements for the state's Medicaid Waiver program. To pay for a nursing home stay with Medicaid, most states require that the person be a resident of the state, be eligible for Medicaid, and not have sufficient income or assets to pay for the nursing home stay.
What is a Typical Room/Unit?
Nursing home apartments or rooms are typically studios or companion suites. One-bedroom apartments are pretty rare, but may be available in newer communities.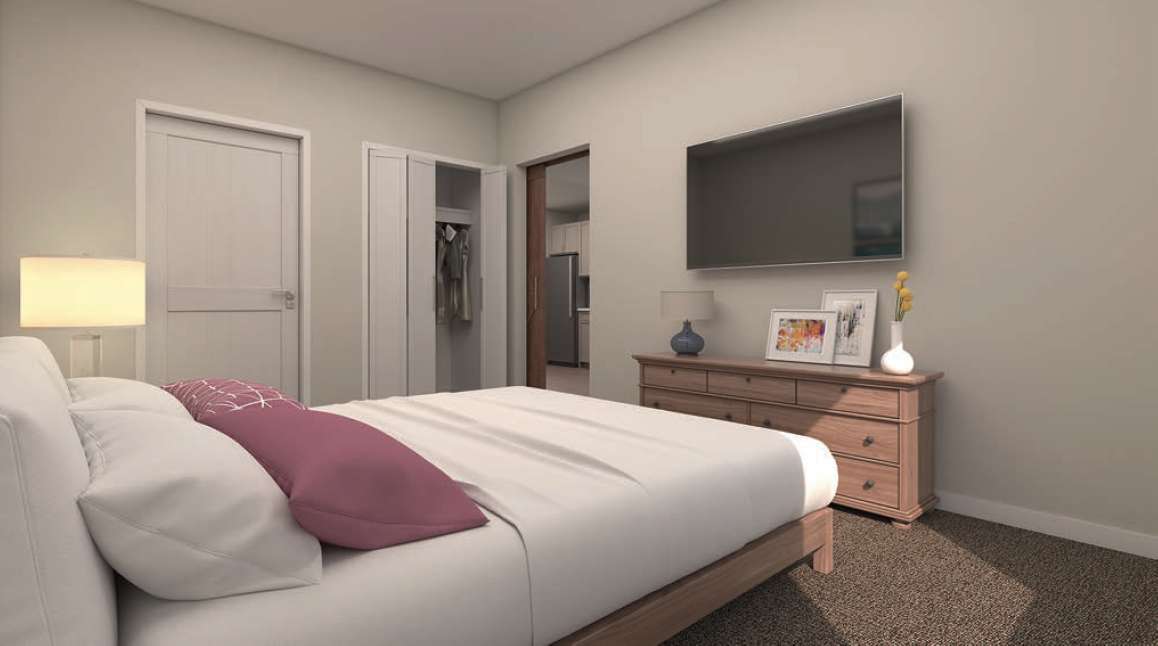 Senior living apartment (rendering).
Skilled nursing rooms are typically straightforward with a living area with a bed, a bathroom that sometimes includes a shower, and a wardrobe or dresser. The flooring is usually a type of vinyl in the living room and the bathrooms have tile flooring. Many nursing home beds are similar to hospital beds, in that they can be tilted up, are broader than twin beds, and have handles or other accessories that make it easier for the patients to get in and out of bed.
Room Sizes
Most nursing home rooms are in the 150 sf - 300 sf range. These tend to be pretty small in comparison to other types of senior living.
Kitchens
Kitchens are not available in nursing home rooms, since 3 meals per day of common dining is provided.
Bathrooms
Most modern nursing home apartments include a full bathroom (sink, toilet, and shower). These bathrooms are designed to make it easier for the resident to use the restroom and bathe. For instance, the shower is typically a roll-in with no edge that requires stepping into, there are usually handicap bars along the toilet, and a nurse-call system is available in case the senior slips and is unable to get up.
Most nursing homes have a communal shower that the community may brand as a spa. Bathrooms in older nursing homes sometimes lack a shower, making it necessary for employees to bathe the residents in the communal shower.
Closets
Wardrobes or dressers are typically used to store nursing home residents' clothing.
How are Nursing Home Facilities Different From Other Types of Senior Housing?
Skilled nursing requires 24/7 nursing care, which is not required in other types of care.
Key Points:
Independent living communities don't offer any care by default
Assisted living communities provide less care and do not offer 24/7 nursing care
Memory Care communities do not provide 24/7 nursing care
How Do Nursing Homes Differ From Independent Living Facilities?
Nursing homes are centered around the nursing care provided while independent living facilities do not offer any care services by default.
Independent living residents are typically much healthier than nursing home residents. As a result, independent living communities focus on providing a maintenance-free lifestyle with great food, amenities, and opportunities to socialize. Nursing homes instead focus primarily on the nursing care for the patient or the rehabilitation/therapy being provided.
Nursing homes also differ from independent living in many ways, including in the number of amenities offered, the size and variety of apartments, the size of the community, how they are regulated, and many more.
Regulations
Nursing homes are typically more regulated than independent living communities. Nursing homes are inspected annually to ensure that proper care is being provided to the patients.
These inspections are then made available online. The report typically consists of a review of the staffing levels of the community, medical and health records, individual care plans, and dining sanitation among other items.
Nursing home providers that have deficiencies on an inspection could be put on probation, be barred from admitting new residents, or have their license revoked.
Independent living communities are less regulated, but since independent living residents are healthier and not receiving care services, the difference in regulation does not imply that independent living is not as safe.
Amenities and Activities
Independent living communities have more amenities and services catering to the lifestyle of the residents. These amenities may include fitness centers, cafes, putting greens, game rooms, chapels, theaters, and many more. Social activities may include outings to symphony concerts, shopping, local sporting events, and live theater. Or the community may offer fitness, card games, or other activities within the community.
Since most nursing home residents are in worse health, nursing homes do not offer the same level of amenities.
Housing Types / Sizes
Nursing home rooms are typically smaller than independent living apartments.s For instance, nursing home rooms often range from 150 sf to 300 sf. Independent living apartments are often much larger, ranging from 350 sf to 1,200 sf or more.
How are Nursing Homes Different From Assisted Living?
Nursing home patients usually need more care than assisted living residents; that is the primary difference. Residents in assisted living often need help with only one or two activities of daily living, while nursing care patients may need help with several of the activities of daily living or the care that they need may be more intensive.
Care
Nursing home residents need 24/7 nursing care while assisted living residents receive personal care services. Care in a nursing home is often similar to that of an assisted living facility, but is more intense. For instance, a nursing home patient may require the assistance with several activities of daily living versus only a few; be very difficult to assist due to weight, injury, or frailty; have a very complicated or difficult to apply medicine regimen; or need a ventilator or other type of intensive care.
Many nursing home patients were previously residents in assisted living. As the care needs of an assistant living resident begin to exceed the capability of the assisted living provider, most communities will suggest that the resident move into a skilled nursing facility based on a medical professional's recommendation.
Sometimes assisted living communities specialize in serving high care needs residents; the senior living industry describes these residents as high acuity. If you or your parents prefer to stay in assisted living, then you may want to ask if such a community exists in your area.
Over the past 15-20 years, the average acuity (care need) of patients in nursing homes and in assisted living facilities has gotten higher. This is a result of residents waiting longer to move into a senior living community, often not until their needs have greatly increased.
Therapy or Rehabilitation
Most nursing homes offer therapy or rehabilitation in the community: usually in a therapy gym, which may look like your local fitness center with slightly different equipment. In a skilled nursing facility, the therapy is typically provided by the same company that manages the community. A handful of assisted living facilities also offer therapy in a therapy gym, but this is typically provided by a third-party provider.
Many seniors prefer to receive therapy or rehabilitation in a skilled nursing facility, because Medicare will pay for the senior's entire stay while she needs therapy (up to 100 days). In an assisted living community, Medicare will not cover any of the housing or dining, but may cover the actual cost of the therapy.
Activities
Assisted living communities usually offer much greater number of amenities and services. For instance, luxury assisted living communities may have a movie theater, billiards room, fitness center, spa, multiple dining venues, and much more. Nursing homes typically offer amenities and services heavily focused around the high-care needs of the nursing home residents.
How are Memory Care Communities Different From Nursing Homes?
While some nursing homes offer memory care services, most nursing homes are focused on residents that need 24/7 nursing or rehabilitation, versus memory care communities that focus on providing personal care services to seniors that suffer from Alzheimer's or dementia.
Memory care is considered a subset of assisted living. This means that the care needs of memory care residents are typically less than those of nursing home residents. Memory care communities are often attached to larger senior housing campuses that provide independent living or assisted living, although they may be in a free-standing format as well.
Both memory care facilities and nursing homes are similar in some ways and provide basic housekeeping, dining, and personal care services.
Memory Care Options in a Nursing Home
The distinctions between nursing homes and memory care facilities breakdown when the nursing home offers memory care services. This means that a neighborhood or section of the nursing home will be dedicated to meeting the needs of those that suffer from Alzheimer's or dementia. This has become less common in general, as memory care in a nursing home is typically more expensive and may have a more institutional environment. So, many adult children prefer for their parents to stay in a memory care (assisted living) community.
Regulations
Nursing homes are regulated at both the state and federal level. As a result of these regulations, nursing homes are typically more institutional in nature. Nursing homes in states with certificate of need law may face limited competition, so the law may discourage the construction of newer competing communities.
Nursing home care is available to all residents, regardless of income, if the patient meets the requirements. Most nursing home care is paid for by Medicare (short-term rehabilitation) or by Medicaid (long-term care). However, if you have assets or substantial income, most states require a spend down of your assets prior to paying for your nursing home stay with Medicaid.
Memory care communities, on the contrary, are primarily paid for through private pay means, including personal income and assets, long-term care insurance, or through social security. Some memory care residents make use of Veterans' Aid and Attendance. A handful of states offer strong Medicaid Waiver programs where memory care is paid for on the behalf of low-income senior citizens.
Who Qualifies for a Nursing Home Stay?
Key Points:
Resident must need 24/7 nursing care or rehabilitation/therapy
Age requirements vary
If Medicaid or Medicare are paying, then there are additional requirements
To qualify for nursing home care, the patient needs an appropriate evaluation or order from a qualified medical professional. The order is typically made for one of two reasons.
The first reason is that the resident needs 24/7 nursing care and will likely be in a nursing home indefinitely. This is common for many elderly residents that are no longer capable of caring for themselves, but require assistance at all times with general care, medication management, and the activities of daily living.
The second reason a doctor or medical professional may provide orders for nursing care is for the patient to receive rehabilitation or therapy in recovery from a hospital stay, injury, surgery, or other form of trauma. Many times, these orders come from inpatient doctors, requesting that the patient receive therapy in a supportive environment until the resident is strong enough to provide the activities of daily living on their own.
What is the Age Requirement for a Nursing Home?
Due to the rehabilitation or therapy available in nursing homes, many nursing homes do not have an age requirement. For instance, it is not uncommon for some patients in their 40's or 50's to receive therapy in a nursing home to recover from heart failure, a stroke, or surgery.
If a nursing home is part of a larger senior housing campus, then it may have a minimum age requirement of 55 or 62 years of age.
What are the Requirements if Medicaid or Medicare are Paying?
Typically, a senior meets the requirements for Medicaid in a nursing home if he or she has a doctor's or medical professional's order for nursing home care and does not have qualified income or assets above a certain threshold.
Medicare will pay for a nursing home stay up to 100 days for a Medicare beneficiary that has received a doctor's or another medical professional's order for therapy or rehabilitation in a skilled nursing facility setting.
How are Facilities Regulated?
Regulation Categories:
Staffing Levels
Individual Care Plans
Medication Management
Employee Records
Building Codes
Nursing homes are regulated on both the state and federal levels. They have significant oversight for care services provided, employee qualifications, record keeping, medication management, and building codes among other requirements.
Nursing homes are inspected every year or more. Investigations after complaints are common. Annual inspections involve an analysis of the staffing levels of the community, medical records and individual care plans, review of medication management, and a review of employee records among others. These inspections often result in several page
The U.S. Centers for Medicare and Medicaid produces quality star ratings based on inspections for all nursing homes that accept either Medicare or Medicaid. These star ratings take into account the health inspections, staffing, and quality measures of a nursing home.
Another resource is Pro Publica's Nursing Home Inspect. This tool lets you compare nursing homes nationally, seeing which communities have the largest fines or most violations. You can search for a community by name, and see how it compares to the other nursing homes in your state. The tool also rates infractions by severity, so you can get a sense of how serious the infractions are for a particular community.
Resources for Nursing Home Care:
It is common for skilled nursing facilities to have minor infractions on their inspections. However, if a community fails an inspection, it may be put on probation, refused the ability to accept new residents, or have its license suspended in rare cases.
Even the best communities will miss a minor regulation, but negligence or abuse by a community that results or could result in the untimely death of a resident will lead to graver penalties for the community.