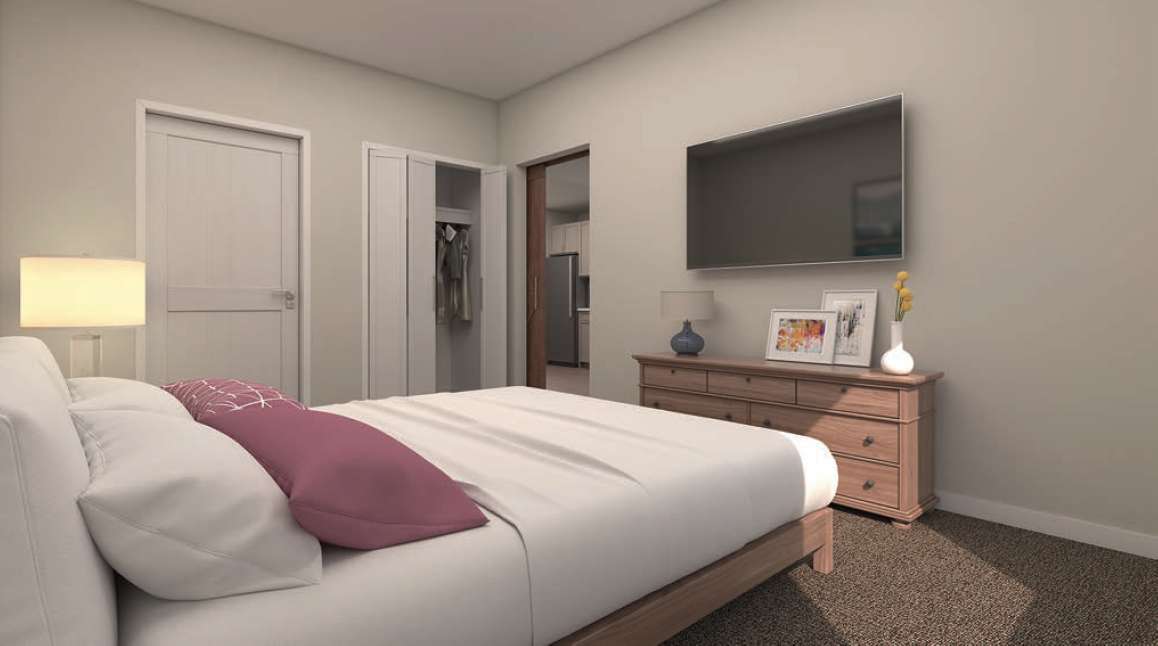 Find Memory Care Near You
Memory care is a type of senior living, or senior housing, specifically designed to provide personal care services to seniors suffering from Alzheimer's or dementia.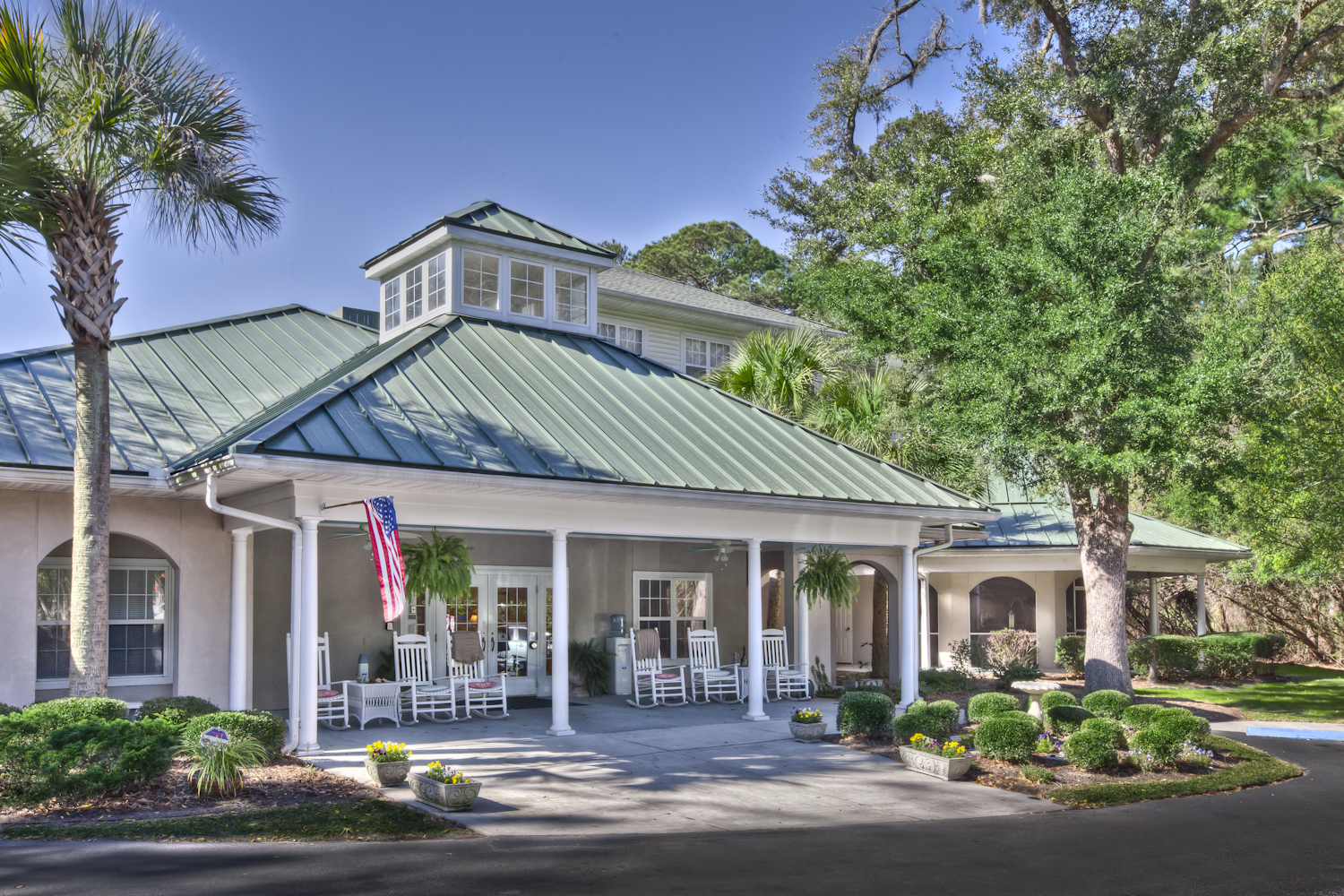 Assisted living and memory care community - Bloom at Bluffton
Memory care provides personal care services to seniors living in the memory care community.
Memory care is actually a subtype of assisted living. Both meet seniors needs by providing a steady living environment and providing personal care services. In memory care, however, these services and the community design are specifically tailored to meet the unique needs of those suffering from dementia or Alzheimer's.
Memory care residents typically need assistance with what the senior living industry calls activities of daily living. These include walking, dressing, eating, bathing, toileting, grooming, and medication management among others. Each memory care resident may struggle with different activities of daily living, so which personal care services are provided and how they're provided differ from resident-to-resident.
For instance, take Ms. Johnson who suffers from Alzheimer's and suffers from osteoarthritis, which makes it difficult for her to bathe and dress. In the morning, a Medication Aide may provide Ms. Johnson with her morning medications. Then a Certified Nursing Assistant may come and help Ms. Johnson bathe and get dressed. The memory care community is assisting Ms. Johnson with the activities of daily living by making sure takes her medications and is clean and ready to take on her day.
Some memory care residents may suffer from short-term memory loss, but otherwise be in good health. In these cases, memory care workers will provide queueing reminders throughout the resident's day, in addition to medication management, as the primary personal care services provided.
For instance, take Mr. Rodriguez who suffers from Alzheimer's, but is otherwise healthy for an 88 year old. In the morning, a Medication Aide may provide Mr. Rodriguez with his morning medications then remind him to shower and get dressed in clean clothes. Mr. Rodriguez will shower and dress himself on his own with the help of the queuing, then he'll join others for breakfast. The memory care community is assisting Mr. Rodriguez with the activities of daily living that he can complete on his own with a little queueing (bathing, dressing, grooming, toileting, etc.) and then providing the others (cooking, medication management), which may be too difficult for him due to his short-term memory loss.
It may be obvious, but queuing a healthy memory care resident is more effective for simpler tasks than more complex tasks. Bathing, dressing, grooming, toileting, and eating may easily be achieved by a physically healthy memory care resident with a little queuing help from the memory care community. Other tasks such as medication management, cooking, housekeeping, laundry, and others may need to be provided by the community due to the greater complexity of those tasks.
In addition to personal care services, memory care communities offer a number of services to residents in order to help them live a richer life. These services typically include providing three meals each day, housekeeping, maintenance, medication management, social activities (such as fitness classes, musical performances, and movies), and of course housing in an apartment.
Memory care apartments tend to be smaller studios, companion suites, or occasionally one-bedroom apartments. Most apartments are in the 200 sf to 550 sf range. The apartments in memory care are designed to prevent the residents from being disoriented, so they rarely have closets where a resident can become trapped. They offer a refuge for sleep and some privacy as the resident receives personal care services in their own space, but much of the activity occurs out in the community.
Memory care communities are largely designed around the common areas. Unique dining areas, activity spaces, life stations, and courtyards are common. Residents will congregate in these areas to spend time with each other, workers, volunteers, and visitors.
What is Included in Memory Care?
Memory care communities usually provide personal care services, medication management, housing, three meals daily, housekeeping, maintenance, transportation, and social activities. These services meet the particular needs of seniors who suffer from Alzheimer's or dementia.
Services Usually Included in Memory Care:
Personal care services for memory care
Medication management
Housing - apartment
Dining - 3 meals daily
Housekeeping
Laundry services
Maintenance
Transportation
Social activities
Personal Care Services
Personal care services are always available in memory care, but they may come at an additional cost through levels of care (see cost info). These services may include assistance with bathing, dressing, incontinence, grooming, ambulation (walking or mobility), and eating among others. These are core services provided in memory care and offer some of the greatest benefit to the residents.
Medication Management
Medication management is always available in memory care, but it may come at an additional cost (see cost info). Since seniors often take many medications, it can be difficult for them to remember to take all of the medications in appropriate doses and at appropriate times. Memory care communities provide medication management to ensure that residents are safely taking the medications that they need in the proper doses. This can often lead to greater health for residents that are otherwise struggling with a regular medicine regimen.
Memory care communities will handle the organizing and dispensing of medications to the residents through this service. This work is completed by Licensed Practical Nurses or Medication Aides, whom are trained specifically in administering medications.
To improve accuracy, many memory care communities have a residents' various medications put into dosage or stamp packaging. Getting medications from bottles into these packets may require an extra charge from the community if you use an outside pharmacy. Sometimes the community may encourage you to use the pharmacy provider for the community, which would eliminate the cost of repackaging.
Housing
Housing in a memory care community is usually an apartment (studio, one-bedroom, or companion-suite) as part of a larger community that has common dining, activities areas, and courtyards. Combining the private apartments with dining and activity areas, allows the seniors to receive personal care services in the privacy of their rooms, while enjoying the dining and social aspects of being part of a larger community.
Dining
Dining in a memory care community is often served restaurant-style. Typically, there is reduced variety in food choices in memory care and foods are prepared to make it easy for residents to feed themselves or receive assistance with eating. For instance, some communities may avoid bone-in chicken since it may serve as a choking hazard, but would instead serve boneless chicken thighs or breasts.
Since memory care communities are often connected to larger assisted living communities, the dining areas in memory care may be separate from the kitchen. This means that meals are often carted in, similar to the way meals are served in hospitals or through room service at a hotel.
Nutrition is a key aspect of maintaining healthy energy and weight in memory care. So, test out the food before moving-in to make sure that your loved one will like the food enough to stay nourished and well fed.
Housekeeping
Housekeeping is always included in memory care. This typically includes cleaning floors, bathrooms, and sometimes making beds.
Laundry Services
Laundry services are always included in memory care. Community workers will gather, wash, dry, fold, and put way sheets and clothing articles for the memory care residents.
Maintenance
Maintenance is always included in memory care. This includes fixing broken toilets, sinks, showers, replacing lightbulbs, and replacing blinds or curtains in the apartment. All of the community maintenance is included as well, such as landscaping, vacuuming common areas, snow removal, painting, etc.
Transportation
Transportation for memory care may be limited, since memory care residents need to be escorted at any destination that they may go. As a result, many communities try to bring outside services into the community, such as barber/beauty services, dentistry, and doctor's appointments.
Social Activities
Memory care communities often have activities tailored to the residents' needs. These may be fitness classes, such as chair aerobics. Musical performances are common, such as someone playing the piano or a guitar and singing. Many residents find these soothing. Sometimes they offer life skills stations for the residents, where residents can hold a baby or pretend to work in a workshop.
What Does it Cost to Live in a Memory Care Facility?
Key Points:
Memory Care costs $5,400 per month on average in the United States
Cost varies greatly by city and quality of services/amenities provided
Range is $3,500 - $10,000+ per month
Memory Care sometimes requires additional monthly fees
Medicare does not pay for memory care
Medicaid pays for memory care for some low-income residents, depending on the state's Medicaid Waiver program.
Average Cost of Memory Care Housing
The average cost of memory care is approximately $5,400 per month according to Brookdale Senior Living.
The cost of memory care can vary greatly depending on the care reputation of the provider, staffing levels of provider, quality of the memory care facility, number of communities in an area, and labor costs in a market.
For instance, a provider with a strong care reputation in a high-income area with a limited number of providers could charge $8,500 or more per month for memory care.
On the contrary, a more affordable provider may only charge $3,500 per month in an area with lots of competition, lower income, and if the community's facility is small or outdated.
What Additional Costs Are There in Memory Care?
Memory Care Costs:

Community fees
Monthly rent
Levels of care for personal care services
Medication management
Extra costs
Fees for senior memory care are paid at move-in (community fees) or on an ongoing monthly basis (rent, levels of care, medication management, and extra costs).
Community Fees
Community fees are one-time fees typically ranging from $500 - 8,000+. The community fee is paid before moving into the community. Community fees are almost always non-refundable, which differs from entrance fee that are paid to a continuing care retirement community. So, do not expect to get your community fee back once you have paid it, except in the rarest of circumstances.
Community fees are frustrating to some seniors or adult children, but they are another form of revenue for the memory care provider and help the provider cover costs associated with renting the apartment. These costs may include painting, replacing carpet, and marketing.
Many memory care communities will discount community fees from time-to-time in order to encourage prospective seniors to move-in. The senior living industry calls these discounts, "concessions". Be sure to ask the community that you're interested in if they're offering any discounts on the community fee or rent.
Monthly Rent
Monthly rent is the largest and most common cost of living in a memory care community. This amount is usually a monthly lump sum, but may be quoted in daily figure for short-term or respite care.
Rent in a memory care community usually varies the most between a private room or a shared room, with the private option costing more. For instance, a companion suite may rent for $3,500 per month per resident, while a private studio may rent for $4,750 per month. Some communities may offer larger private studios or even a one-bedroom at an even higher rent.
Companion suites, shared apartments, or semi-private units permit two non-family residents to live in the same apartment in order to save money. These arrangements have carried over from the nursing home industry where they are very common. In a memory care companion suite, the apartment may have separate bedrooms and bathrooms for both residents, or the two residents may share the same bedroom and bathroom.
Staying in a semi-private room is a great option to save money on monthly rent. However, the situation obviously reduces privacy and it can be difficult for some residents to get along in a shared space, particularly in memory care where some residents get disoriented and aggressive easily.
Couples are pretty rare in memory care. Contact the memory care community that you're interested in if your parents or loved ones want to live together in memory care.
Levels of Care for Personal Care Services
Some memory care communities include all care costs in rent (all-inclusive or care-inclusive communities) while other memory care communities separate personal care services into levels of care and charge residents depending on which level the resident's needs are categorized. Categorizing residents' personal care needs into levels of care simplifies pricing compared to an a la carte pricing method that charges for every single care service provide. Most memory care communities offer from 2-5 levels of care, with the cost increasing between each level.
For example, a resident who only needs queuing may be a level 1 and need to pay $700/month for care. Another resident that needs assistance with bathing, feeding, and incontinence may need to pay $1,500/month for the more expensive level 3 of care.
Levels of care are usually determined by an assessment that is completed prior to move-in. Residents are reassessed each year or as the need for additional personal care services becomes evident to the community. Consequently, the cost for memory care tends to escalate as most residents need more assistance over time.
Medication Management
Medication management is sometimes charged in addition to rent at memory care communities, but always provided for the safety of the residents. This monthly cost covers the ordering (if using preferred pharmacy), organizing, and administering of medication to the residents. Since memory care residents often take ten or more pills daily and accuracy is so vital to the memory care residents' health, many communities charge a monthly fee for this added complexity and liability.
Extra Costs
Some assisted living communities offer memory care, but not in a secure neighborhood. In these cases, the community may charge residents an additional cost for a wander guard. This electronic anklet will sound an alarm if a resident tries to wander away from the community.
With the exception of beauty/barber services, wander guard anklets, medical visits, dental care, or extra patient transportation there are not many extra costs for memory care.
How Can I Pay for Memory Care?
Most seniors pay for memory care with income from a variety of sources, since memory care can be expensive. These income sources may include social security, investment, pension, or other income. Some seniors have long-term care insurance policies that help pay for memory care.
Options to Pay:

Social security, pension, investment, or other income
Long-term care insurance
Selling a home or other asset
Receiving assistance from friends or family
Veterans' benefit
Medicaid Waiver

Can Social Security be Used?
Yes, social security can be used to pay for memory care, but it is not sufficient by itself. For instance, most seniors receive social security checks of $1,500 per month or less, while the average cost for memory care is $5,400 per month. This leaves the memory care resident or her family with over $2,900 per month to cover rent.
Veterans' Aid and Attendance
There is a Veterans' Aid and Attendance program for those that have served in the military and their family members. This benefit often pays about $1,400 per month to help pay for a veteran or qualifying spouses' memory care costs.
Selling a Home or Other Asset
Selling a home or other asset (real estate, stocks, etc.) is a common way to pay for memory care. Planning before a senior needs memory care is important in this regard. It's very important to review your expected financial costs with a trusted CPA or financial advisor to make sure your resources will support the costs of living in the community as your needs change.
Assistance From Friends and Family
Some adult children will help their parents pay for memory care. One or more children may come together to ease the financial burden. On average, about 10-15% of senior's memory care costs are covered by adult children. Obviously, this depends on the adult child's ability to pay and relationship with his or her parent.
Medicaid Waiver
If a senior cannot afford memory care with the above forms of income, then she may qualify for the Medicaid Waiver program in her state. Medicaid waiver programs require that the resident or estate proves that she does not have sufficient assets or income to pay for memory care. If the resident's estate is too large, then the state may require a spend down of assets or income prior to paying for memory care.
Only some senior living communities accept Medicaid, so the resident's options will be limited and largely determined by how much your state's Medicaid Waiver program reimburses memory care providers. States that reimburse more for care tend to have more and better providers offering memory care to Medicaid residents. For instance, some states may reimburse $2-3k+ per month per Medicaid resident to providers, while others may reimburse substantially less.
Will Medicare Pay for Memory Care Facilities?
Unfortunately, no, Medicare will not pay for memory care. Medicare primarily covers medical care and medications for seniors, so the housing, dining, and personal care services included in memory care fall outside the typical bounds of Medicare's reimbursement system.
What is a Typical Memory Care Housing Unit?
Memory care apartments are typically companion suites or studios. One-bedroom apartments are less common, but do exist in some newer communities.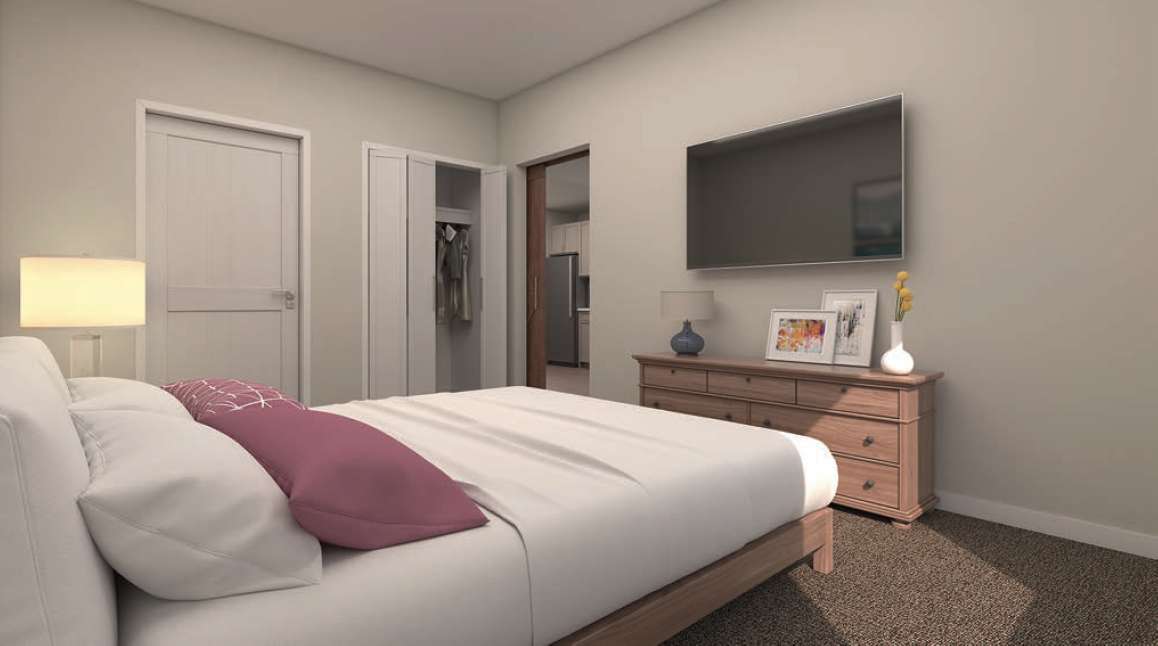 Senior living apartment (rendering).
Memory care apartments usually include a living area, a sleeping area or bedroom, and a bathroom. Most memory care apartments do not have kitchens. Wardrobes or dressers are often used to store clothes instead of closets, since memory care residents can get disoriented and feel trapped in closets.
Apartment Sizes
In a studio, the senior's living area and bedroom are in the same room. Studios are particularly common in memory care communities.
Companion suite apartments are also common in memory care. These shared spaces may range from two separate bedrooms with two separate baths with a shared living area to a single room with a bathroom that is shared between the residents.
Kitchens
Kitchens are not typically included in memory care apartments for the residents' safety.
Bathrooms
Most modern memory care apartments include a full bathroom (sink, toilet, and shower). These bathrooms may include design features to make it easier for the resident to utilize the space. For instance, the bathroom may include a roll-in shower, handicap bars, and a nurse-call system in case the senior slips and is unable to get up.
Older communities may feature a communal shower where residents will be bathed one at a time by a nursing aide or certified nursing aide. The community may brand this area as a spa.
Closets
Memory care communities don't usually offer closets, but utilize wardrobes or dressers to store clothes.
How is Memory Care Different From Other Types of Senior Housing?
Memory Care differs from other types of senior housing in that it provides care to meet the specific needs of those who suffer from dementia or Alzheimer's.
Key Points:
55+ or active adult communities are designed for very independent seniors around common amenities and activities (golf, tennis, croquet, swimming, etc.)
Independent living communities don't offer personal care services by default (see below for more detailed differences)
Assisted living also provides personal care services, but not targeted specifically a those that suffer from dementia or Alzheimer's.
Nursing homes residents need additional care
How Does Memory Care Differ From Independent Living?
Unlike memory care, independent living does not offer personal care services by default and does not specifically meet the needs of those who suffer from dementia and Alzheimer's. Because of that difference, many memory care communities are focused on the care needs of the resident, while independent living communities are focused on providing a maintenance-free lifestyle. In fact, most independent living residents tend to be much healthier than memory care residents.
Memory care communities also differ from independent living in many ways, including in the number of amenities offered, the size and variety of apartments, the size of the community, how they are regulated, and many more.
Regulation
Memory care facilities are often more regulated than independent living facilities since memory care communities offer personal care services, including medication management, by default. Many states inspect memory care communities every year, or more often, through a department of health.
These inspections are then reported and made available online. The report typically consists of a review of the staffing levels of the community, medical and health records, individual care plans, and dining sanitation among other points of review.
Memory care facilities that have deficiencies on an inspection could be put on probation, be barred from admitting new residents, or have their license revoked.
Independent living communities are less regulated, but since independent living residents are healthier and not receiving care services, the difference in regulation does not imply that independent living is not as safe.
Amenities and Activities
Independent living communities have more amenities and services catering to the lifestyle need of residents. These amenities may include fitness centers, cafes, putting greens, game rooms, chapels, theaters, and many more. Social activities may include outings to symphony concerts, shopping, local sporting events, and live theater. Or the community may offer fitness, card games, or other activities within the community.
Memory care facilities do not typically offer these amenities and activities, since many residents are unable to take advantage of them.
Housing Types / Sizes
Memory care apartments are typically smaller than independent living apartments. For instance, memory care apartments often range from 200 sf to 500 sf. Independent living apartments are often much larger, ranging from 350 sf to 1,200 sf or more.
Home Care in Independent Living
Independent living communities can provide personal care services through home care. This will involve the resident contracting with a third-party to receive the personal care services.
How is Memory Care Different From Assisted Living?
Memory care is actually a sub-type of assisted living. In fact, assisted living and memory care neighborhoods may be offered in the same community. While both assisted living and memory care offer personal care services, memory care communities tailor these personal care services, and the community's environment, to the specific needs of those suffering from dementia or Alzheimer's.
Activities
Memory care communities tailor their activities specifically to those who suffer from Alzheimer's or dementia. For instance, the community may offer musical therapy to soothe the residents or provide exercise classes for overall wellness. There may also have life-skills station with activities that the senior resident may innately remember, such as a childcare station.
Many memory care communities are specifically designed to enhance the lives of their residents. Keepsake or memory boxes are often hung outside the resident's doors. These boxes are filled with pictures of family or personal articles for the seniors and make it easier for them to navigate to their rooms. Some communities are designed with a walkable loop around the building, so that residents can walk for therapy. Enclosed courtyards to the outdoors provide a place where residents can go enjoy nature without the risk of wandering away. Assisted living communities may have some of these amenities, but usually not all of them.
Most memory care communities or neighborhoods are secured or locked to prevent residents from wandering away. The purpose of securing this environment is for the resident's protection.
A handful of assisted living communities will take memory care residents, even when they do not offer a dedicated memory care neighborhood. In this situation, assisted living providers will usually give the resident a wander guard anklet, so that an alarm sounds of the resident tries to leave the community.
How are Memory Care Communities Different From Nursing Homes?
Nursing home residents typically need more care than memory care residents or are rehabilitating from an injury or surgery. Nursing homes provide nursing care to residents 24/7. This care is overseen by a registered nurse.
Nursing home care is often much more medical in nature and more intensive than the care provided in a memory care community. For instance, a nursing home resident may be on a ventilator or require several nursing assistants to be lifted for bathing.
However, both memory care facilities and nursing homes are similar in some ways and provide basic housekeeping, dining, and personal care services.
Some nursing homes provide memory care services to residents. This has become less common in general, as memory care in a nursing home is typically more expensive and may have a more institutional environment.
Nursing homes are regulated at both the state and federal level. As a result of these regulations, nursing homes are typically more institutional in nature. Nursing homes in states with certificate of need law may face limited competition, so the law may discourage the construction of newer competing communities.
Nursing home care is available to all residents, regardless of income, if the patient meets the requirements. Most nursing home care is paid for by Medicare (short-term rehabilitation) or by Medicaid (long-term care). However, if you have assets or substantial income, most states require a spend down of your assets prior to paying for your nursing home stay with Medicaid.
Memory care communities, on the contrary, are primarily paid for through private pay means, including personal income and assets, long-term care insurance, or through social security. Some memory care residents make use of Veterans' Aid and Attendance. A handful of states offer strong Medicaid Waiver programs where memory care is paid for on the behalf of low-income senior citizens.
Who Qualifies for Memory Care?
Key Points:
Memory care residents must be diagnosed with a form of dementia or Alzheimer's
Memory care residents need assistance with 1-2+ activities of daily living
Most memory care residents are in their 80's, but the legal minimum is usually 55 or 62
To qualify for memory care, you typically need assistance with a minimum of 1-2 activities of daily living and a diagnosis of a form of dementia or Alzheimer's. Residents' needs are assessed by a doctor, licensed practical nurse, registered nurse, or other direct care administrator prior to move-in.
The community will also use the questionnaire to determine which level of care the resident needs and will develop an individual care plan. The individual care plan will outline the future care to be provided to the resident, describing which personal care services will be provided. This plan is typically reviewed often and updated as requested by the healthcare coordinator or other medical professional.
What are the Requirements if Medicaid is Paying?
The requirements for entering memory care that is paid for by Medicaid, depends on the requirements of the state's Medicaid Waiver program. These requirements are often stricter than those of an individual community, since you will be using taxpayer generated funds for the care fav.
What is the Average Age of Memory Care Residents?
The average age of memory care residents is approximately 84. The age varies greatly, however, so many memory care residents are below 80 or above 90. Whether or not a senior is in memory care is driven by the deterioration from the disease rather than the particular age of the resident.
How is Memory Care Regulated?
Regulation Categories:
Staffing Levels
Individual Care Plans
Medication Management
Employee Records
Building Codes
Memory care is regulated at the state level, so the rules surrounding regulation depend on the state where the memory care facility is located. Even the terms used to describe memory care vary from state-to-state, with many states calling memory care, special care.
Most states regulate memory care to ensure that providers meet certain minimum requirements prior to receiving a license to provide memory care. After the community has met those requirements and passed an initial inspection, the state will inspect the community annually (or more often) to ensure compliance with a number of regulations intended to ensure the safety and welfare of residents.
These inspections can be reviewed online for a number of states.
If a community fails an inspection, it may be put on probation, refused the ability to accept new residents, or have its license suspended in rare cases.
Even the best communities will miss a minor regulation, but negligence or abuse by a community that results or could result in the untimely death of a resident will lead to graver penalties for the community.
Most states review a community's staffing levels (to ensure adequate staffing for care), individual care plans to ensure residents are being provided the proper amount and types of care, medication management records to ensure residents are receiving appropriate doses of their medicines, employee records to ensure that staff are properly vetted and qualified to provide care, and building codes to ensure a safe environment for the residents.
Memory care communities are typically required to have more care staff per resident than a similar assisted living community. This is often expressed in a ratio requirement mandated by the state. For instance, the state may require that the memory care community have a minimum of one certified nursing assistant (or similar) for every six memory care residents during a day shift. Some communities will go above and beyond this ratio or may do so when needed if their residents require additional direct care.
Some older memory care facilities have been grandfathered in under fire regulations that did not require sprinkler systems or suitable ingress or egress, due to the enormous cost of retrofitting these systems into older buildings. If you have a concern about fire safety at a community that you're considering, reach out to the community to confirm that they have a proper fire-suppression system in place.